Wireless Warm Mug V.2 – Re-Engineered Performance Enhancement
The wireless warm mug was developed jointly by Design HMI LLC and AME Company Limited in 2015 and utility patent filed at the same time. It was successfully brought to life through Kickstarter and mugs were delivered to 1400+ supporters over a 12-month period.
Based on feedback from supporters Design HMI and AME spent the last year on developing design enhancements as well as quality improvements.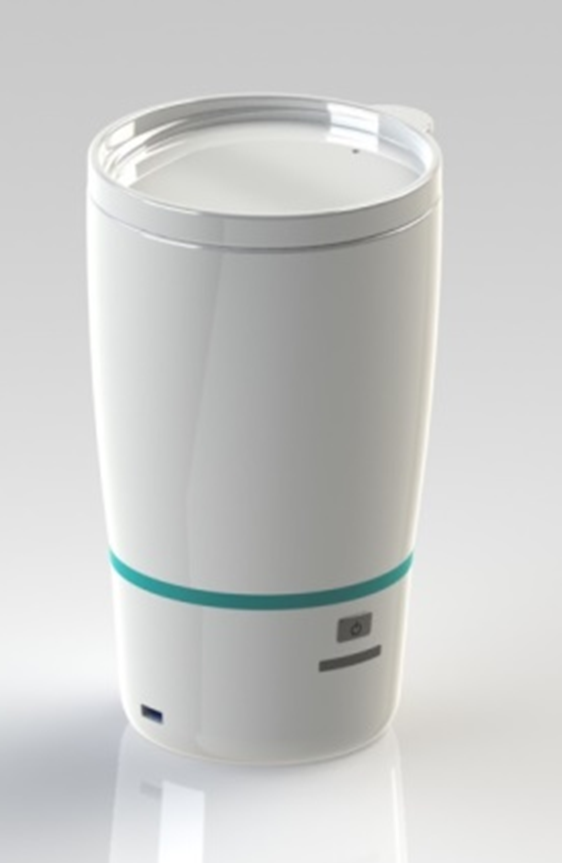 Double Plastic Wall and Metal Lining for improved heat insulation of mug body.
More effective coffee temperature control – 60oC for 45 minutes.Ultrasonic weld and O Ring Insert on Mug Body Joint Lines to eliminate leakage.
USB port for charging smart phone – Android or iPhone in emergency.
Wireless Charging Plate – easy battery charging.
Type C USB Connection to Charging Plate for wireless battery charging < 30 minutes.
64 GB USB Flash Memory.
Liquid temperature indicator.
Higher efficiency 3.7V 3500 mAh Battery.
Higher efficiency Nano Heater for warming at low power consumption of 6-8W.
Improved Lid Design with Upward Facing Drinking Spout for better experience.
Improved Lighting Style with even light rim – blue when ON and RED when battery below 25% power capacity.
For information on continuing design improvement and suggestions for additional adds please contact designhmi@gmail.com or to AME WEBSITE by clicking http://www.ames.hk/
_____________________________________________________________________
Requirement:
Self-heating cup to keep coffee / tea warm at 65C for the 45 minute needed to comfortably drink the coffee / tea
Problem:
Hot coffee or tea gets cold very quickly in cup requiring frequent refills.
Reheating the coffee or tea in cup reduces taste.
Reheating not user friendly and cumbersome.
Fast cooling (< 15 minutes) limits drinking pleasure in social / office environment.
Heating plates require beverage drinker to stay in place.
Heating plates make bottom part hot white top drinking area stays lukewarm.
Heating plate requires and easy use power outlet – difficult in office or on road.
Heating plates hot touch – not kid friendly.

Solution:
Temperature control cup with rechargeable battery requiring limited charging – design for 07+ servings keeping coffee / tea warm at 150F for 45 minutes each serving.
14oz and 16oz coffee or hot beverage cup with integrated wireless heating.
Maintain temperature between 145F (63oC) to 155F (68oC) for 45 minutes after pouring.
Assume starting temperature at 180F +/- 5F (80C – 85C).
Nano heater designed for dynamic heating.
Cup interior dimensions should be 85 mm ; external height < 130 mm with rounded lip.
Snap fit insulated lid with sipping port.
Double lined with 1.5 mm inner and outer lining and 1.5 mm air gap for insulation.
Stainless steel sleeve height 40 mm only.
ON / OFF switch with lighted blue ring at base when ON.
30 minute timer to turn OFF Nano Heater to eliminate battery drain.
RED flashing indicator when battery level below 25% of full power.
Charging time < 90 minutes through USB wall socket charging.
Nano heater will be OFF when battery is being charged.
Indicator to stay RED during charging and change to blue once fully charged.
Battery indicator only lit when cup turned on.
Weight < 400 grams.
UL Certified with 3500 mAh to 5000 mAh rechargeable battery.
Sealed rechargeable battery pack for powering  7+ cup servings before recharging.
Wireless and portable.
Cup designed to keep liquid warm uniformly from top to bottom.
Cup with USB charging cable.
Estimated retail cost $34.99.
Wireless Charging Specs:
Charging Type: Inductive
Input Voltage: DC5V/2A
Output Voltage:DC5V/1A
Transmit Power: 5W
Transmit Distance: 6mm
Outside Dimension: 87*75*16mm
Product Weight: 70G
Product Material: Zinc Alloy
Featured On: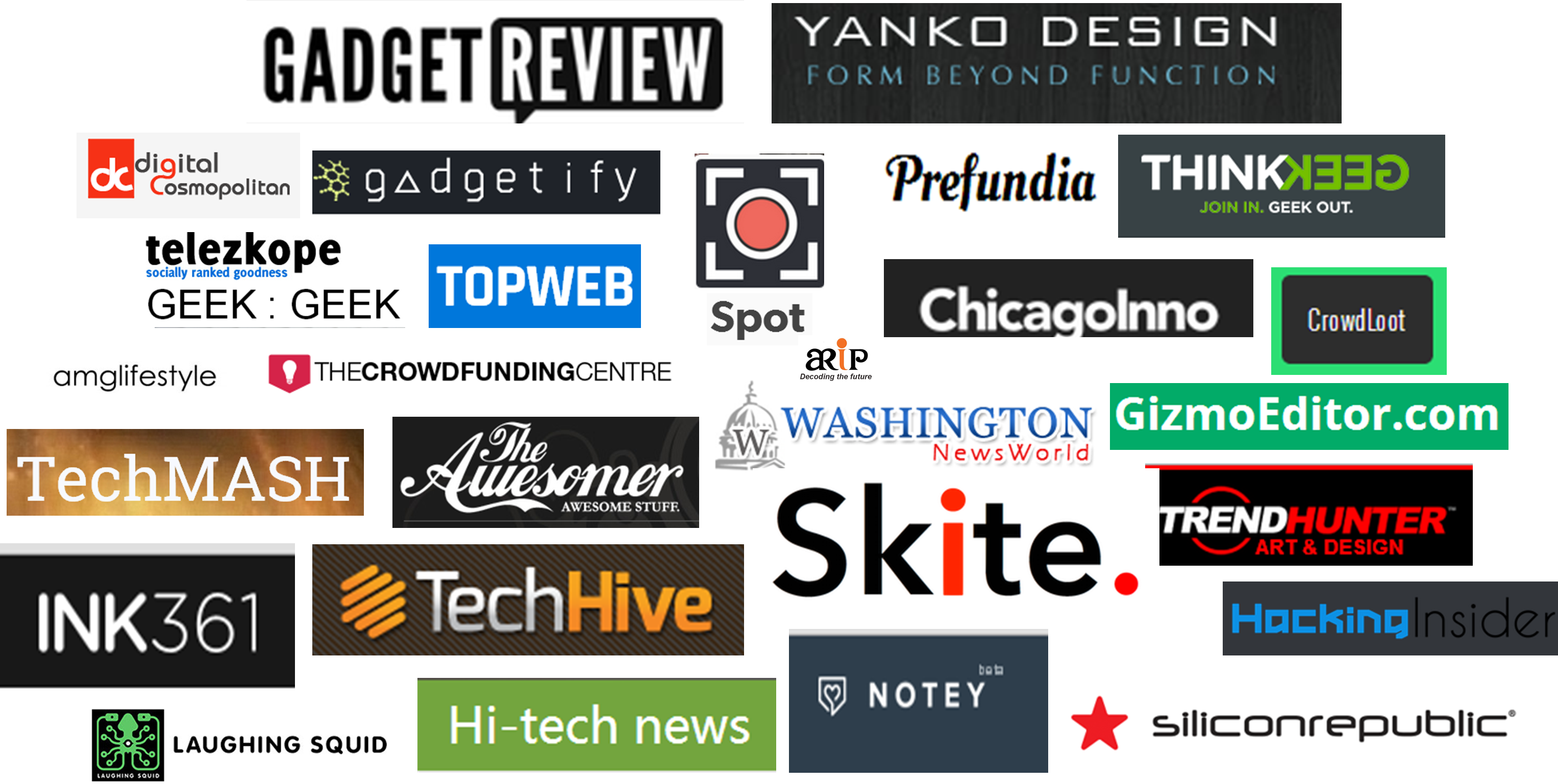 THREE VARIATIONS

:
1) Home/office friendly with handle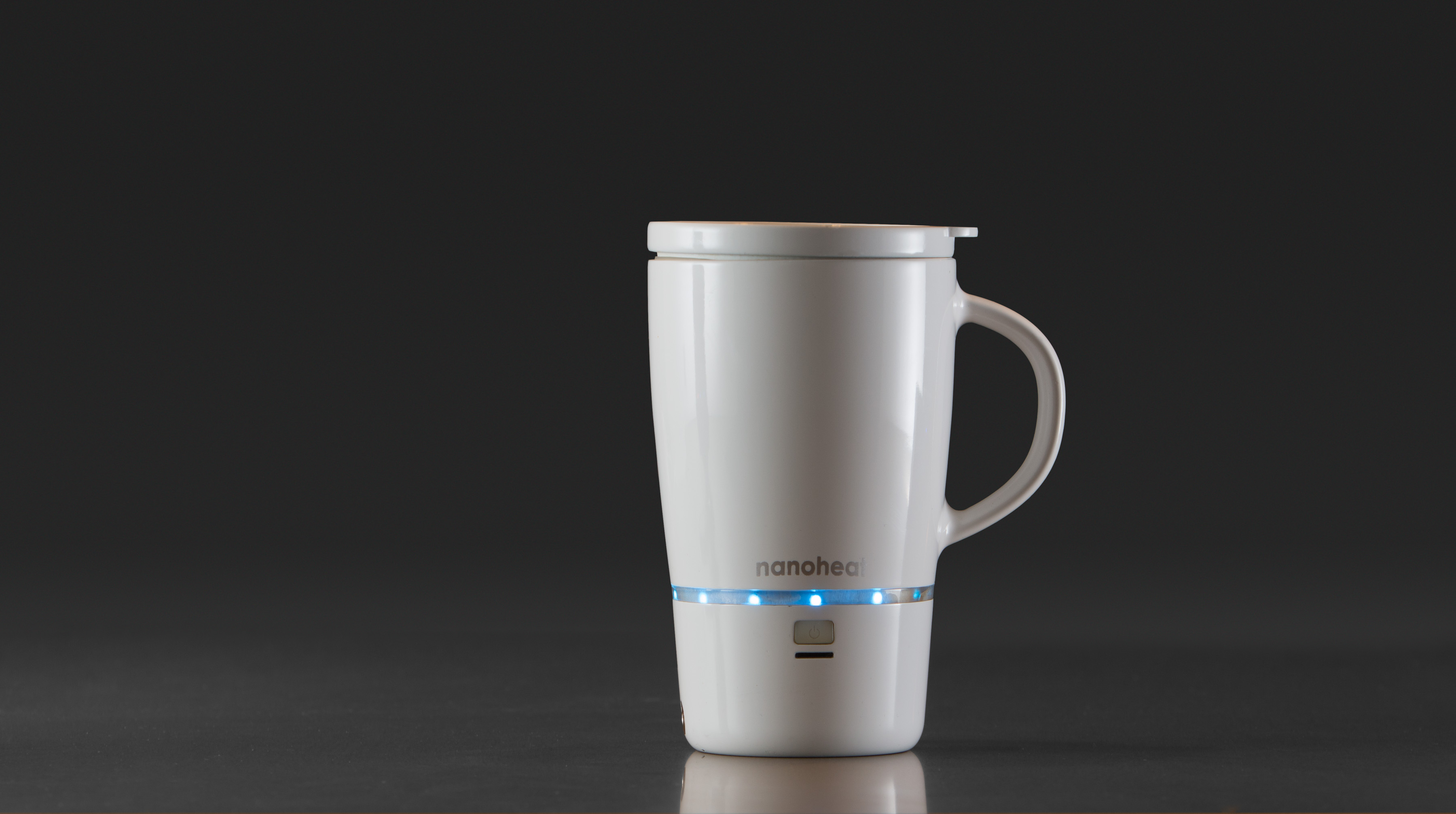 2) Car Friendly – without handle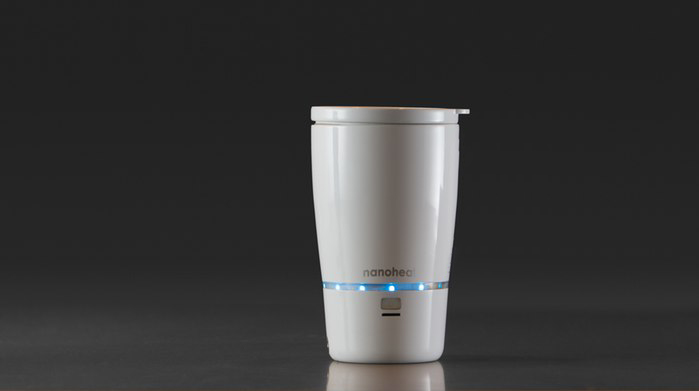 3) With wireless charging plate
The Wireless Warm Cup uses patented nano heating technology. Conventional heating elements use a metal coil, energy outputs come from a high electrical resistance of the metal coils with low efficiency and high power loss. In our Wireless Warm Cup by adjusting the composition and thickness of the coating layers, the electrical resistance of the coating system can be controlled and conductivity can be increased to generate high efficiency.
Layers of a conformal nano thickness heating material that is coated onto a glass surface as the heating element in the base of the cup. The heating element is energy efficient and quick to heat to the desired temperature.
The Nano heating element is a multilayered nano thickness coating material which includes of tin, tungsten, titanium and vanadium with organometallic precursors like Monobuty l Tin Tri-chloride doped with equal quantities of donor and acceptor elements preferably antimony and Zinc at about 3 mol % deposited over the insulating coating layers and the ceramic glass from AME.
The material used to form the heating element is deposited onto a substrate by using a low cost spray method in an open-air environment. The material maintains a stable structure. Designed with a low risk of crack formation, and has high conductivity. The material maintains its heating performance at high temperatures for prolonged time periods. The material is deposited in multiple layers which are coated on the ceramic glass.
Thus nano thickness heating elements are reliable high temperature heating elements capable of performing efficient and consistent heating functions up to about 6000 C.
Wireless Cup Design Drawings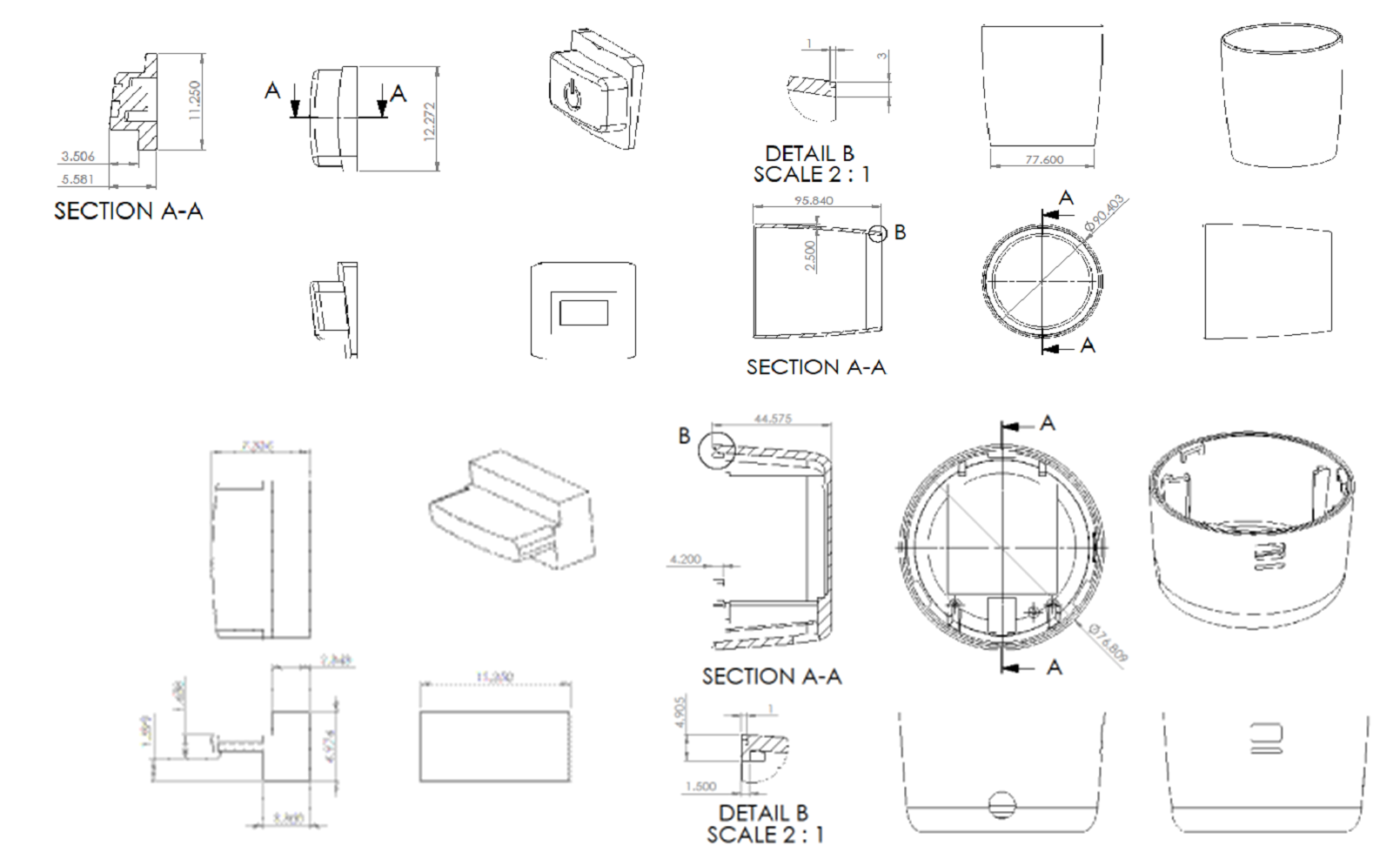 Using unique patent pending application design we reduce heat loss in conjunction with Nano Heating to reduce power requirement and increase time between charges.
By designing circuit that is tightly packaged we have created design ideally suited for packaging and still maintaining temperature rise in PCBA within industry norms with protection from potential EMC damage.
Designed to be water resistant with plunger contacts that are corrosion resistant.